link copied to clipboard
saving changes, please wait..
page successfully updated
error saving changes
file size exceeds 512kb.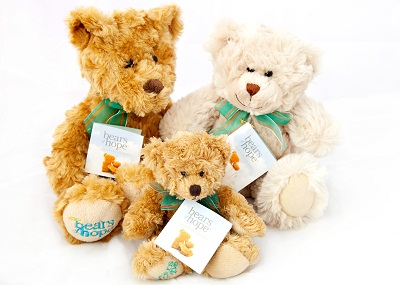 $113,721

of

$150,000

target.
Raised by 0 people in days for Bears of Hope Pregnancy & Infant Loss Support Incorporated
Donate a bear of hope in honour of a baby you hold close to your heart
Story
Thank you for supporting bereaved families with a donation towards a bear of hope and support resources.
1) We invite you to make a donation of $50 towards a bear of hope in memory of a baby close to your heart.
2) Donations to this page are capped at 2 bears of hope ($100) in memory of each precious baby per year. If more than 2 donations are going to be made by yourself, family and friends, please open an online fundraising page. If donations are made over $100, it will revert to "for every $100 donated a bear of hope will be given". (the remaining funds are used towards our other objectives).
3) Bears Of Hope will choose the type of bear (Hope, Sophie or Xavier) to donate due to what is needed at the time.
4) Bears are donated to hospitals in bulk orders due to their storage limitations and high individual postage costs for Bears Of Hope. We cannot individually donate your bear/s to a specific hospital or family.
5) If you would like your bear to be donated to a hospital of your choice, please purchase a support package through our website and post or personally take to the hospital. Bears on their own are NOT to be donated to hospitals as we provide our packages at this point of contact. Please note that you must be in touch with the hospital before you do this.
6) There will be no photo provided as a keepsake for one-off donations. Photos of bears and certificates are provided for online fundraisers only.
TO MAKE A DONATION
1. Click on the DONATE button
2. Select the $50 amount (1 bear), $100 amount (2 bears)
3. In the message section please include the following:
* Your Baby's Name (Full name or just first) and date of birth/day of passing for us to write inside the tag attached to each bear of hope.
For families who may not have named their baby we suggest using "Baby (your surname") or "Angel (your surname)" or if you had a special nickname, you may like to use this.
4. Type of donation - Select "donation". It's not a purchase.
E.g Please donate a a bear of hope in honour of Jacinta & Madelin Tattis 3/11/03
or Jacinta & Madelin 3/11/03 - 6/11/03
Online Fundraising for Bears Of Hope
Visit our Fundraising Portal to hold an online fundraiser.
Enquiries
Email packagedonations@bearsofhope.org.au
Thank you for your generosity. Your support will have a profound impact on the lives of families and is greatly appreciated by Bears Of Hope.
read more
All
Donations

0
Activity

0


There is nothing to show from any feeds at the moment.

There are no current donations or activities for this user.
The fitness feed has been disabled by the page owner.

Bears of Hope Pregnancy & Infant Loss Support Incorporated
Bears Of Hope Pregnancy & Infant Loss Support is an Australian not-for-profit organisation based in Sydney NSW, providing leading support and exceptional care for families who experience the loss of their baby. This includes miscarriage, stillbirth, genetic interruption, neonatal and infant loss. We seek to provide crucial information and embrace families during their difficult time of loss, and beyond. There are two key elements to our program that guide families through their choices when saying Hello and Goodbye to their much loved baby. Families receive a Bear Of Hope donated by another bereaved family. This allows the donating family to give their childs brief life a purpose and lasting legacy, whilst filling the empty arms of another family as they walk out of the hospital without their baby. It reinforces the understanding that they are not alone, and that there is an existing community of support. Families also receive extensive information, either in printed or online format, to help them make decisions and memories in hospital, during the memorial and beyond. Our Beyond the Bear support is unequaled by any other organisation. We provide exclusive and invaluable support packages that include; a credible foundation of parent led and psychologist facilitated support groups, private online groups, phone and email counselling and annual community events that remember individual baby's and recognize their parents love. Additionally we have a Hope and Healing Resource Library and issue a quarterly newsletter where parents have the opportunity to contribute. Fundraising Enquiries:  0400 475 012  online@bearsofhope.org.au General Enquiries: 1300 11 BEAR or contact@bearsofhope.org.au Grief Support: 1300 11 HOPE   support@bearsofhope.org.au Website www.bearsofhope.org.au
read more
Created by
Bears Of Hope Pregna
for Bears of Hope Pregnancy & Infant Loss Support Incorporated

$113,721 of $150,000 target
0 people in days
Please make sure you are LOGGED IN. You can only join a Team Leader page if you are logged in and have an Individual page created. If you do, it will be displayed here once you've logged in. If you don't, please return to the 'home page' and follow instructions on how to create your Individual page.